Special Note: Paul Harvey is a legend of the broadcasting industry that I remember all the way back to my young life in the 1960's with great fondness. A real American who gave us the "rest of then story" and an inspiration to me. He will be sorely missed, especially his great love and understanding of the rural American who is the backbone of this nation. God Bless you Paul -Good nite!

(CNN) -- Paul Harvey, the legendary radio host whose career sharing "the rest of the story" with listeners spanned more than 70 years, has died, according to ABC Radio Networks.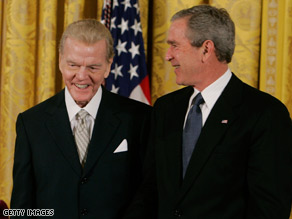 Paul Harvey receives the Medal of Freedom from President George Bush in 2005.
He was 90.
Known for his deliberate delivery and pregnant pauses, Harvey's broadcasts were heard on over 1,200 radio stations and 400 Armed Forces networks and his commentaries appeared in 300 newspapers, according to his Web site.
He had been hosting his radio shows part-time for much of the past year, after recovering from physical ailments including pneumonia and the death of his wife, Lynne "Angel" Harvey in May 2008.
"My father and mother created from thin air what one day became radio and television news," said Harvey's son, Paul Harvey Jr., in a written statement. "So, in the past year, an industry has lost its godparents and today millions have lost a friend."
Born in Tulsa, Oklahoma, Harvey began his radio career in 1933 at KVOO-AM there while he was still in high school, his Web site says. He helped clean the station and was eventually was allowed to fill in on air, reading news and commercials.
"Paul Harvey was one of the most gifted and beloved broadcasters in our nation's history," ABC Radio Networks President Jim Robinson said in a written statement. "As he delivered the news each day with his own unique style and commentary, his voice became a trusted friend in American households."
The statement did not give details about Harvey's death.
---