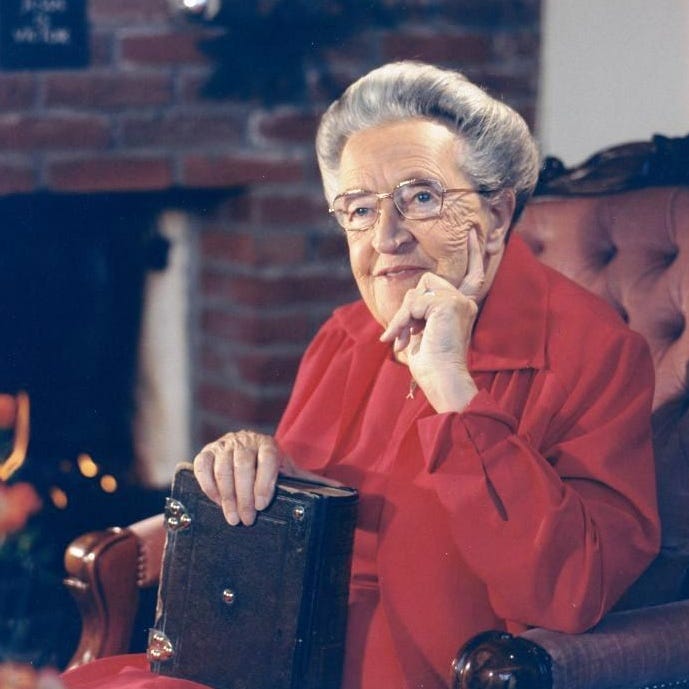 Photo: The Corrie Ten Boom House Foundation
The True story of Corrie ten Boom and her incredible family's faith in God against all evil.  Have plenty of Kleenex handy.
This is probably the most remarkable story of faith in the face of evil that I have ever known in the twentieth century.  This family not only lived their faith, they died by their faith, except for one incredible sister, who God spared to bring her story of Jesus to the world.  Whenever I start thinking I am a good Christian, I think of Corrie, and am ashamed. Cornelia Arnolda Johanna "Corrie" ten Boom  born and died on her birthday 91 years later on 15 April 1892 – 15 April 1983.  Corrie was a Dutch watchmaker and later a Christian writer and public speaker, who worked with her father, Casper ten Boom, her sister Betsie ten Boom and other family members to help many Jewish people escape from the Nazis during the Holocaust in World War II by hiding them in her home. They were caught, and she was arrested and sent to the Ravensbrück concentration camp. Her most famous book, The Hiding Place, which is here in full length is a biography that recounts the story of her family's efforts and how she found and shared hope in God while she was imprisoned at the concentration camp.
Her father was a watchmaker. Corrie trained to be a watchmaker herself, and in 1922, she became the first woman to be licensed as a watchmaker in the Netherlands.
Corrie ten Boom returned to the Netherlands after the war and set up a rehabilitation center for concentration camp survivors. In the Christian spirit to which she was so devoted, she also took in those who had cooperated with the Germans during the occupation. In 1946, she began a worldwide ministry that took her to more than 60 countries. She received many tributes, including being knighted by the queen of the Netherlands. In 1971, she wrote a best-selling book of her experiences during World War II, entitled The Hiding Place. In 1975, the book was made into a movie starring Jeannette Clift as Corrie and Julie Harris as her sister Betsie.
Death
In 1977, at age 85, Corrie ten Boom moved to Placentia, California. The next year, she suffered a series of strokes that left her paralyzed and unable to speak. She died on her 91st birthday, April 15, 1983. Her passing on this date evokes the Jewish traditional belief that states that only specially blessed people are granted the privilege of dying on the date they were born.
Watch the Trailer :